Installation – Service – Maintenance
Established in 1996 Logic Cranes and Hoists is a Western Australian owned company offering overhead gantry crane installation, repair, servicing and maintenance.
WIRE ROPE HOISTS

ABUS electric wire rope hoists are the core element of our crane systems. They are also the result of many decades of research and development by ABUS. Our wire rope hoists are produced at the ABUS production plants at Gummersbach using the most advanced technology available and continue to bear witness to the reliability, and durability of our products. The SWL range of ABUS electric wire rope hoists extends from 1t to 120t. Our customers can choose from a wide range of models depending on application and requirements – starting with the standard wire rope hoist in the lower SWL range, up to special crab unit designs incorporating additional features in the higher SWL range. However, all wire rope hoists have these characteristics in common: highest levels of uptime availability and maximum safety within material handling operations.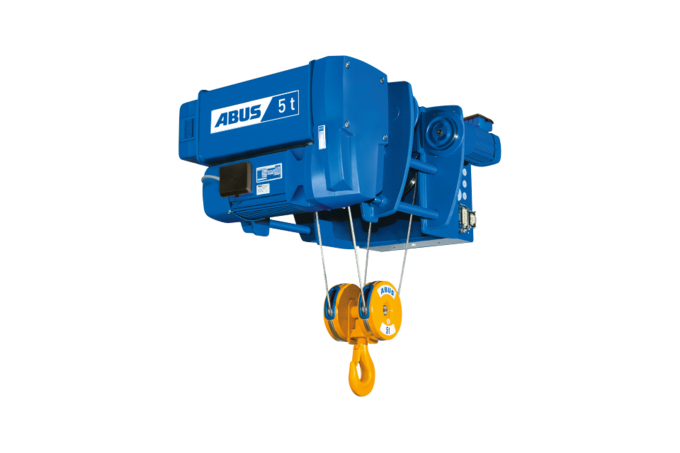 Type E Single-rail Hoist
A compact designed monorail hoist with low headroom dimensions and two direct drive cross-travel motors. The cross-travel trolley is adjustable to suit various flange widths. These most cost effective and frequently ordered hoists have a load range from 1t to 16t SWL.
Load Capacity: up to 16 t
Compact design
Two direct-driven trolleys without open gears
Trolley can be adapted to different flange widths
Favourable dimensions, comprehensive standard and optional equipment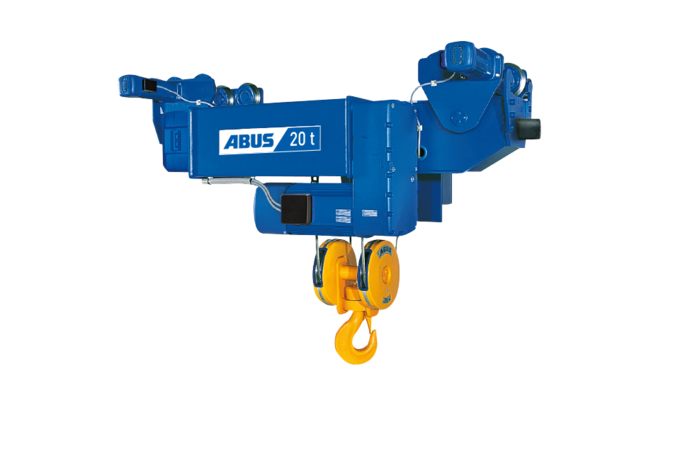 Type U Bottom Flange Hoist
Type U – Monorail Hoist with Twin Trolleys
A monorail hoist with twin trolleys for high load capacities and long hook paths. Cross travel trolley designed for direct drive without exposed reduction gearing. As the load is distributed over eight wheels, ordinary rolled section beams can be used for monorail track applications. With short spans, even high-load cranes can be operated on ordinary rolled section beams using this hoist. Load capacity range: 6.3t to 25t.
Load Capacity: up to 25 t
Can also be used on single-rail tracks with normal rolled section girders
Direct-driven trolleys without open gears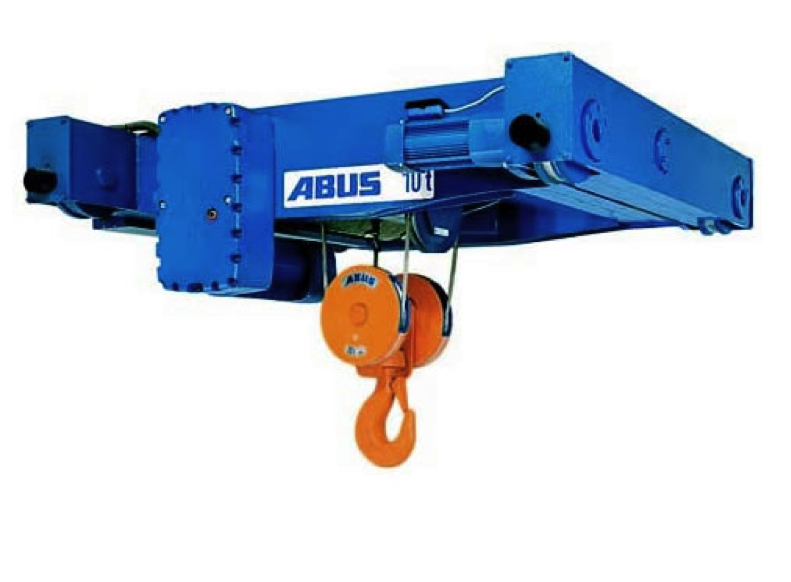 Type DQA Double-rail Hoist
Type DQA – Ultra Low Headroom Crab Unit
An ultra-low headroom crab unit with a rope drum axis in the direction of cross-travel; articulated end carriage joints ensure positive contact of all four wheels with the track; two direct drive cross-travel motors. Load capacity range: 1t to 40t.
Load Capacity: up to 40 t
Ultra low headroom design
Jointed end carriage connection for firm four-wheel contact
Two direct drives for trolley without open gears

 Unit 3, 15 Pearson Street, Bayswater WA 6053
 08 6180 9600
 info@logiccranes.com.au
Emergency Crane Repairs
Contact us directly
+61 8 6180 9600